Dear Visitor,
Six facts about Dow 20,000
---
The much-heralded 20,000 milestone reached by the Dow Jones Industrial Average (DJIA) garnered major media attention, but that's due more to the fame of the index than its importance as a bellwether of the economy.
After all, the DJIA consists of only 30 names, making it far less diversified than the S&P 500 Index. The Dow also utilizes a price-weighting method that places an arbitrary importance on individual stocks.
What the Dow represents
• The Dow has a significant bias toward the financials and industrials sectors, and little exposure to the so-called "bond proxies," including telecommunications, utilities, consumer staples, and REITs stocks.
• The index also has an overweight to legacy technology companies, stocks like IBM and Cisco, historically focused on desktop computing. At the same time, the Dow does not include large internet service and social media tech companies like Google and Facebook.
Other major milestones
• The Dow hit the 10,000 milestone on March 29, 1999, but plummeted to 7114 during the financial crisis.
• In the early part of the recovery from the Great Recession, the Dow crossed the 15,000 mark on May 7, 2013. The Dow reached 19,000 on November 22, 2016.
The Dow has rivals
• Standard & Poor's launched its first "Composite Index" in 1923, but the S&P 500 Index as we know it today was launched in 1957. The S&P 500 today represents $2.2 trillion of stock market capitalization, and there is more than $7.8 trillion in assets benchmarked to the index.
• Among other important indexes, the Nasdaq has set several record highs since the 2016 U.S. election. There are no small-cap companies in the Dow. The Russell 2000 Index — as a benchmark for small caps not found in the Dow — has hit 15 record highs since the election.
2017 Economic Outlook
The global economic acceleration in 2016 provided a favorable backdrop for financial assets. The pickup in global economic activity was marked by a resurgence of growth in China, improved global industrial activity, abating deflationary pressures, and continued economic expansion in the United States.
Global economic momentum set the stage for rising bond yields and inflation expectations in the U.S. during the second half of the year, which accelerated after the U.S. election results boosted hopes for a pro-growth change in U.S. economic policy. These hopes fueled a Q4 rally in U.S. stocks. The upward move in bond yields weighed on investment-grade bond returns. And the dollar surged to a 15-year high.
We expect the global expansion to persist in 2017 and to set a positive tone to start the year. However, the wide distribution of potential policy outcomes poses uncertainty and may result in increased market volatility. We favor global equities and inflation-resistant assets, but smaller allocation tilts are merited at this point in the business cycle.
How Much Should You Save for Retirement?
Saving for retirement can be daunting, but as with any long-term project, it may help to have a plan. Yet less than half of current workers have tried to estimate how much savings they will need to live comfortably in retirement. Those who do try to estimate their needs tend to set higher savings goals and are more confident that they can enjoy a comfortable retirement.1
Though every situation is different, one common guideline is that you may need to replace 70% to 80% of your pre-retirement income. This typically assumes that you will have paid off your mortgage, will be in a lower tax bracket when you retire, won't be saving for retirement, and will not have work-related expenses, such as for commuting and business clothing.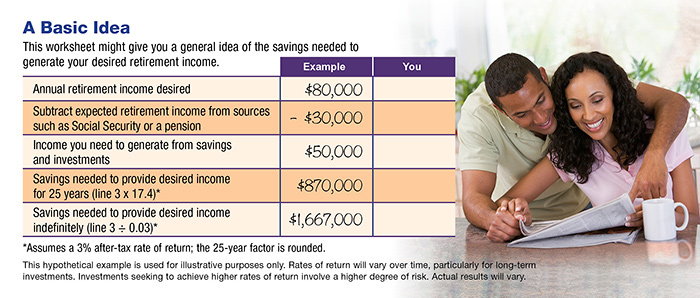 If your retirement is 20 or 30 years away, it might be difficult to project your retirement income needs and living expenses, but it may help to start with some rough numbers. If retirement is nearer, projecting income and expenses should be easier. Here are some tips to consider.
Estimate your Social Security benefits. You can calculate your future Social Security benefits using the Retirement Estimator at ssa.gov. Keep in mind that this tool assumes current benefit levels; the 2016 trustees' report suggests that the program may be able to pay only 77% of scheduled benefits after 2035, unless Congress takes action.2 On the other hand, your future benefit may rise as your salary increases and the Social Security Administration makes cost-of-living adjustments.
Be realistic about investment returns. Higher returns might enable your nest egg to grow faster, but it may be more prudent to use a modest rate of return in your calculations. If you experience higher returns, you might consider it a bonus. Remember that all investing involves risk, including the possible loss of principal, and there is no guarantee that any investment strategy will be successful.
Consider your retirement lifestyle. Perhaps you want to travel more, move to a different area of the country, or engage in new activities. Would these lifestyle choices require more retirement savings?
Prepare for a long retirement. Your retirement may last 25 or more years. According to recent mortality tables, a healthy 45-year-old man would have a 45% chance of living to age 90 and a 27% chance of living to age 95. The odds of living to 90 or 95 are 56% and 37%, respectively, for a healthy 45-year-old woman.3
Factor in medical expenses. Modern medical care has contributed to longer life expectancies, but costs continue to rise. A couple who retired at age 65 in 2015 could spend an average of $259,000 on medical expenses in retirement (including Medicare and Medigap premiums, out-of-pocket expenses, and median prescription drug expenses).4 Future retirees might face even higher medical expenses.
The simplified worksheet below could help you start estimating your retirement needs, but you may benefit from professional advice and a more thorough cash-flow analysis. Although there is no assurance that working with a financial professional will improve investment results, a professional who focuses on your overall objectives can help you consider strategies that could have a substantial effect on your long-term financial situation.
1) Employee Benefit Research Institute, 2016
2) Social Security Administration, 2016
3) American Academy of Actuaries and Society of Actuaries, 2016 (based on a nonsmoker in excellent health)
4) Employee Benefit Research Institute, 2015
About SWM



Our firm assist individuals, families, and businesses in proactively preparing themselves for a broad range of financial decisions and life events by utilizing a team of specialized individuals to help our clients gain income protection, financial stability, and overall peace of mind for themselves and their loved ones. We are an Integrated, Wealth Manager Specialists.

Mark Sumner
Financial Advisor

Sumner Wealth Management, Inc.
142 D South Cardigan Way P.O. Box 4446
Mooresville, NC 28117
Direct (704) 905 - 3594
www.sumnerwealthmanagement.com

Investment Management
Retirement Services
Insurance